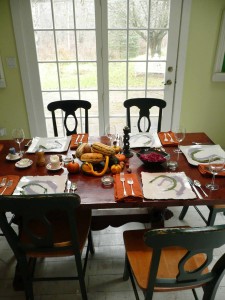 2012 Berkshire Thanksgiving Dinners, Free and Low-Cost
Those of us who can savor Thanksgiving together are lucky.
Learn more about food security for all! Link
Thanks to Judith Lerner of the Berkshire Eagle for these……
Salvation Army (413) 442-0624 www.salvationarmy.org 300 West St., Pittsfield; turkey dinner with all the trimmings made by Captain Scott Peabody, his wife Captain Karen Peabody and people from the church; Sunday, November 18, 4:30 p.m.; free walk-in.
Berkshire Food Project Community Thanksgiving Chef's Dinner (413) 664-7378 www.berkshirefoodproject.org First Congregational Church, 134 Main St. at Ashland St., North Adams; Valerie Schwartz director, Jared Polens chef; presented by chefs Chris Bonnivier, Greg Roach and others; dinner Monday, November 19, 4:30 p.m. to 8:30 p.m. free walk-in; volunteers welcome all afternoon.
Berkshire South Community Center (413) 528-2810 x10 25 Crissey Road, Great Barrington; 5th Annual Community Thanks Supper; Tuesday, November 20; three seatings: 4 p.m., 5 p.m. and 6 p.m.; free by reservation but donations are accepted; volunteers welcome call for information.
Christian Center 393 Robbins Ave. at Linden St., Pittsfield; (413) 443-2828; turkey dinner; 12pm to 1pm Thursday, November 22; doors open at 11:30 a.m.; open until 2 p.m.; meals delivered to elderly and shut-ins, hopefully by 12 p.m.; free walk-in; call any day up to Thanksgiving day at 12 p.m. to get a meal delivered.
Berkshire Vegan Network Living Thanksgiving at United Methodist Church of Lenox, 6 Holmes Road at Route 7, Lenox; vegan potluck; Thursday, November 22, 1 p.m.; adults/$7 children 3 to 12/$3; reservations required; call Melissa Campbell (413) 684-0176 mcampbell25@nycaprr.com for reservations; each person is to bring a vegan dish free of all animal products that will serve 10; attach a recipe card with ingredients to each dish; coffee and hot and cold water will be provided; please bring own place settings and utensils. Guest share time after dinner to express why they are thankful. Speakers Aram Polster and Miriam Jones.
Guthrie Center Thanksgiving Dinner (413) 528-1955 4 Van Deusenville Road at Division St., Great Barrington; dinner; Thursday, November 22, 1 p.m.; free by reservation; hosted and catered by Samuel's Deli and the Guthrie Center; call if you need transportation arrangements; volunteers welcome just show up.
More great ways to celebrate Thanksgiving