7 Simple Summer Improvisations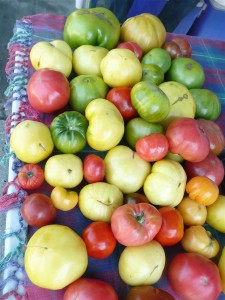 These came to me when I woke up this morning……
Warm String Bean Salad

Plunge string beans into boiling water until tender-crisp. (I used multi-colored beans from my garden.) Immediately after cooking, toss with garlic simmered in a little olive oil, lots of lemon zest, chives, toasted almond slices and salt and pepper. Serve with a few cherry tomatoes cut in half and lemon wedges.
Warm Eggplant-Tomato Sandwich
Slice eggplant into rounds and salt. Let set for 1-3 hours in a colander. Squeeze out the water, if any. Brush with garlic oil and grill until soft. Place rounds on a baking sheet. Top each with a slice of fresh tomato, chopped basil, and a sprinkle of your favorite cheese, preferably local. Broil just until cheese melts. (Eggplant can be made the day before and brought to room temperature.) Serve for lunch or supper with crusty bread.
Tomato-Peach Relish
Cut peaches and tomatoes into a small dice. Add a sprinkle of diced onion and hot chili pepper to taste. Toss with a tiny bit of fresh cilantro, olive oil and lime juice. Serve with grilled food or chips.
Lobster, Corn and Tomato Salad
Steam a regional lobster per person. (Or, have a supermarket or fishmonger steam it. They have been a plentiful season, so are relatively inexpensive.) Pick out the meat and slice. Toss with cooked corn kernels and quartered cherry or diced tomatoes. Mix a touch your favorite dressing with lemon zest and a touch of hot chili peppers. (I used oil, lemon juice, garlic and shallots.) Toss to VERY lightly coat. Serve on top of greens that have been tossed in the dressing or oil, lemon juice and salt.
Roasted Beet Salad
Roast whole beets wrapped in foil in a 400-degree oven, until tender when pierced with a fork. (Time varies with size.) Cool and slip or peal off skins. Dice or slice. Toss with a touch of good balsamic vinegar, salt and pepper. Sprinkle with feta. (Also good with pickled red onions, recipes abound.)
Wilted Salad Sandwich
Something about the tangy salad soaking into the baguette…..Toss mesclun mix with any good vinaigrette. Let it sit for 15 minutes. Cut crisp baguette lengthwise. Top with the wilted salad and sliced salted tomatoes and cucumbers. Sprinkle with chives, if you have them. Slice the sandwich and savor. (If you don't have dressing handy: 3 parts olive oil, 1 part red wine vinegar, a touch of Dijon and garlic, salt and pepper.) You can add protein to the sandwich if you like.
Fresh Edaname Appetizer
Throw fresh edaname (soy beans in their pods) into boiling water for a minute. Drain and toss with salt, freshly grated ginger and a splash of good hot sauce. Sprinkle with sesame seeds. (You can shell them too if you like, but it's so much work! Let diners suck the beans out of their pods and the flavors with do the rest.)
Quesadillas with Broccoli Pesto

Kids love this! (It is included it in my farm to school cookbook, with is free on this site.) Steam broccoli until soft enough to puree in a food processor or blender
.
Drain well. Blend with some parsley (stems are fine too) and a touch of garlic and olive oil. Stir in a little Parmesan or any good hard cheese. Spread on tortillas and top with a slice of good tomato. Sprinkle of regional cheddar. Grill. (Or bake in a hot oven on an oiled baking sheet until crisp, 8-12 minutes) Cut into 4′s.. (You can use the broccoli stems too, if you cut the very tough ends, then peal the stems and slice them thinly.)