This past weekend I picked up a few butternut and acorn squash from the farmers' market. Partly because these winter squash keep well without refrigeration. And with Hurricane Sandy on the way, I figured "better safe than sorry" would be a good mantra to stick by — so plenty of winter squash was purchased.
Sunday afternoon was dreary and drizzly, and my baby, Josslyn, was asleep. It was a perfect excuse to hit the kitchen for a little baking session.
The previous weekend I had thrown a big party for Joss, and I had leftover gingersnaps and heavy cream. So I decided to make a "pumpkin" pie with my butternut squash and a gingersnap crust.
I found a traditional pumpkin pie recipe in one of my cookbooks, and figured I could substitute cooked and puréed butternut squash for canned pumpkin. I then looked up a gingersnap crust recipe online. The crust recipe included ingredients, but not cooking instructions. The pie recipe said to use a partially cooked crust — so that is what I did.
I have learned this by trial and error before and was reminded of it once again during this baking experience —
baking is an exact science.
There is no substituting this and altering that as with regular cooking. While my pie was tasty, it resembled a bread pudding or a custard more than it did a pie.
This morning when I checked my email, there was a recipe from Amy Cotler FOR THE EXACT PIE I WAS TRYING TO MAKE! I wish this had arrived two days sooner. But for those of you who want to give it a try, here it is:
Butternut Pie with Gingersnap Crust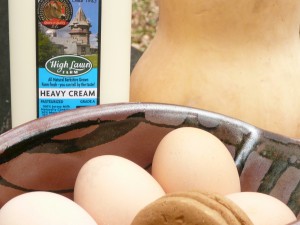 Pumpkin pie has become a generic holiday dessert, a blah crust that offers nothing to its slightly gelatinous canned filling. So here's an alternative, a family favorite that's a welcome twist on the classic. Fresh roasted butternut squash is spun into a pudding-like filling with local cream and eggs, then housed in a crunchy gingersnap crust.
Makes one pie
Pie Crust
about 10 ounces of gingersnaps
6 tablespoons unsalted butter, melted
2 tablespoons sugar
Filling
1 2-1/2 or 3 lb or so butternut squash (2 cups puree or 1 pound)
2 extra large eggs, beaten until frothy
1/2 cup light brown sugar
2/3 cup heavy cream
1 teaspoon ground cinnamon
1/8 teaspoon cloves
1/4 teaspoon salt
20 grates nutmeg or 1/8 teaspoon
Optional Topping
Pecan halves or toasted butternut seeds
1-Preheat the oven to 375 degrees F. Pierce the squash a few times with a knife. Roast it whole on a baking sheet for about 1 hour or until very soft. Split in half lengthwise. Remove the fibrous center, seeds, and skin. Discard all, or save the seeds for another use. (Clean and toast in a dry pan over medium heat until crisp, then season.) Puree the squash flesh in the food processor. Measure out 2 cups or 1 pound and set aside. Keep the oven on. (Use the remainder of the puree as a side dish, seasoned.)
2- While the squash is roasting, chop gingersnaps in the food processor until they are fine crumbs. Pulse twice with sugar and melted butter.
3-Pour the crumbs into an oiled pie plate that is 9 inches wide by 1-1/2 inches tall. Use your hands to coat the plate evenly with the crumbs. Press firmly, especially the sides and top. Place on a baking sheet. Cover the edges well with foil to prevent burning.
4-Whisk or pulse the remaining filling ingredients in the food processor just to combine. Pour into the pie shell. Bake for 40 minutes or until just set. If you like, garnish with the nuts or seeds in a circle. Let sit or chill, cutting to serve.